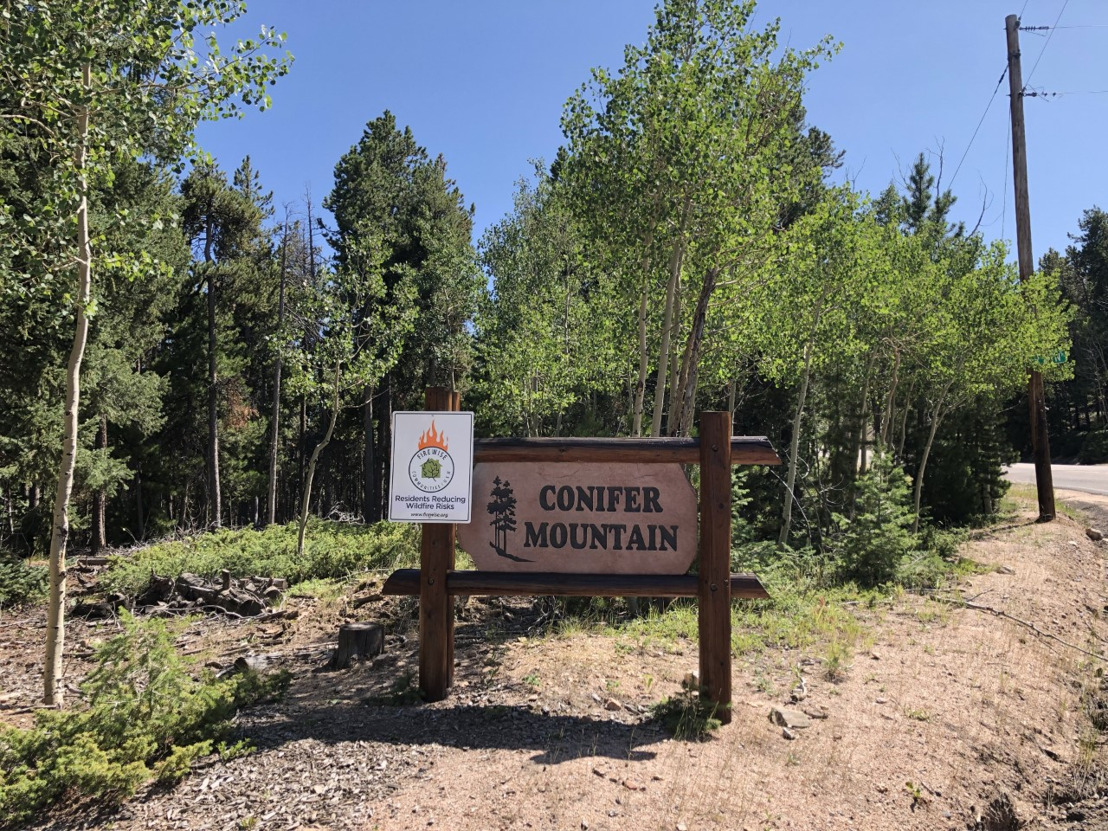 As fire season ignites, Conifer Mountain Homeowners Association community is certified as a Firewise USA® Community
Conifer Mountain HOA joins 1500 communities around the country preparing and protecting their homes against the threat of wildfire
Fire season has come early this year for Colorado's mountain communities. We've watched the drought map expand all spring and elevated fire conditions will continue for many of us through this week. Conifer Mountain, nestled in Denver's foothills, is a particularly fire-prone area of Jefferson County. However, it's residents have worked tirelessly in preparation for the 2020 fire season resulting in the Conifer Mountain Homeowners Association (CMHOA) receiving the National Firewise USA® Program Certificate of Recognition for the fourth consecutive year.
Firewise communities work to raise individual homeowners' awareness of the risks of wildfire and encourage property owners to take action, literally in their own backyards to mitigate the risk of wildland fire danger for themselves and their neighbors.
Just under 400 properties lie within the boundary of the CMHOA subdivision on Conifer Mountain. In 2019, almost a quarter of homeowners voluntarily took the initiative to create "defensible space" by clearing trees, brush and other flammable materials away from their homes, stacking it along their neighborhood roads. Through an Elk Creek Fire Protection District grant, trained personnel then cleared the piles of dead trees, limbs and other flammable material from homeowners' property.
CMHOA held an informational meeting featuring speakers from Elk Creek Fire, Fire Adapted Bailey and a neighboring cluster of Firewise communities to kick off the voluntary initiative. The Emergency Management Coordinator from the Jefferson County Sheriff's Office addressed the need for residents to prepare evacuation plans in case a wildfire situation occurs.
According to the National Fire Protection Agency (NFPA) most homes catch fire during a wildfire because of small embers that are blown by the wind a mile or more ahead of the main wildfire. CMHOA provided information on the following actions residents can take to "ember-harden" their homes and structures to help minimize this risk as well:
Use ignition-resistant building materials on roofs, walls, decks and patios

Clean roofs and gutters of dead leaves, debris, and pine needles that could catch embers

Replace or repair any loose or missing shingles or roof tiles to prevent ember penetration

Reduce embers that could pass through vents in the eaves by installing 1/8 inch metal mesh screening

Clean debris from exterior attic vents and install 1/8 inch metal mesh screening to reduce opportunities for embers to alight

Repair or replace damaged or loose window screens and any broken windows

Screen or box-in areas below patios and decks with wire mesh to prevent debris and combustible materials from accumulating

Move any flammable material away from wall exteriors – mulch, flammable plants, leaves and needles, firewood piles – anything that can burn

Remove anything stored underneath decks or porches
If you would like to learn more about CMHOA's Firewise USA® Certification contact Eileen McGinnity at 720.496.7811. Information on the Elk Creek Fire Protection District Chipping program, including how to sign up for "curbside" chipping in 2020, is available at http://elkcreekfire.org/chipping-program/
Jordan Sherman M&C Communications